Item request has been placed!
×
Item request cannot be made.
×
Processing Request
AIIMS, Kalyani is one of the new AIIMS established as a part of the initiative under Pradhan Mantri Swasthya Suraksha Yojna (PMSSY) by the Ministry of Health and family welfare, Govt. of India and the Central Library was inaugurated on 8th March 2021 by Dr. Ramji Singh, Executive Director of AIIMS Kalyani.
The Central Library is a learning resource center being an integral part of the academic and research work and continues to expand its collection in print and digital form. It also designs and delivers innovative services to support teaching, learning, research, and other scholarly activities. The library has initiated several important activities and services during the reporting year.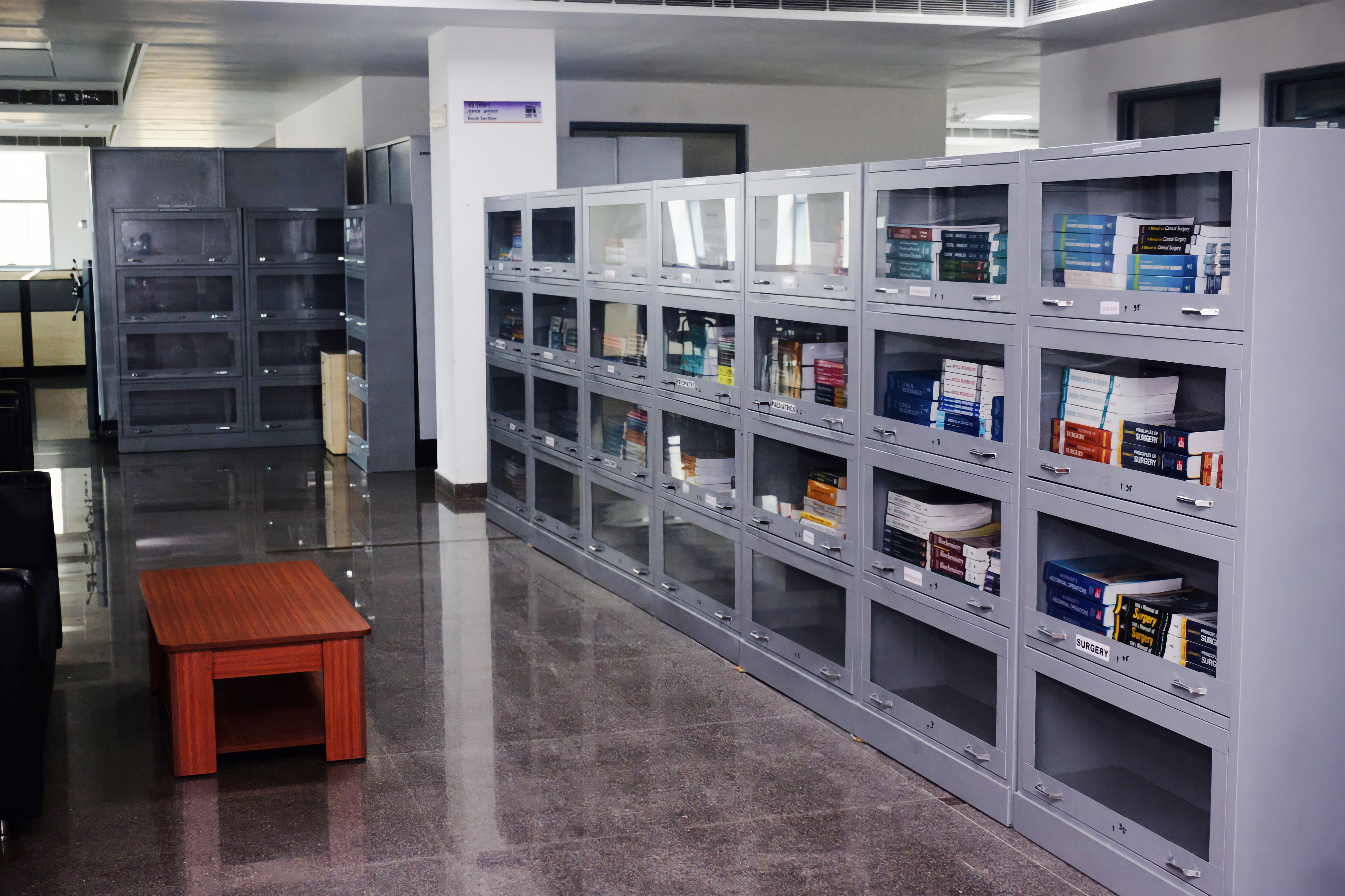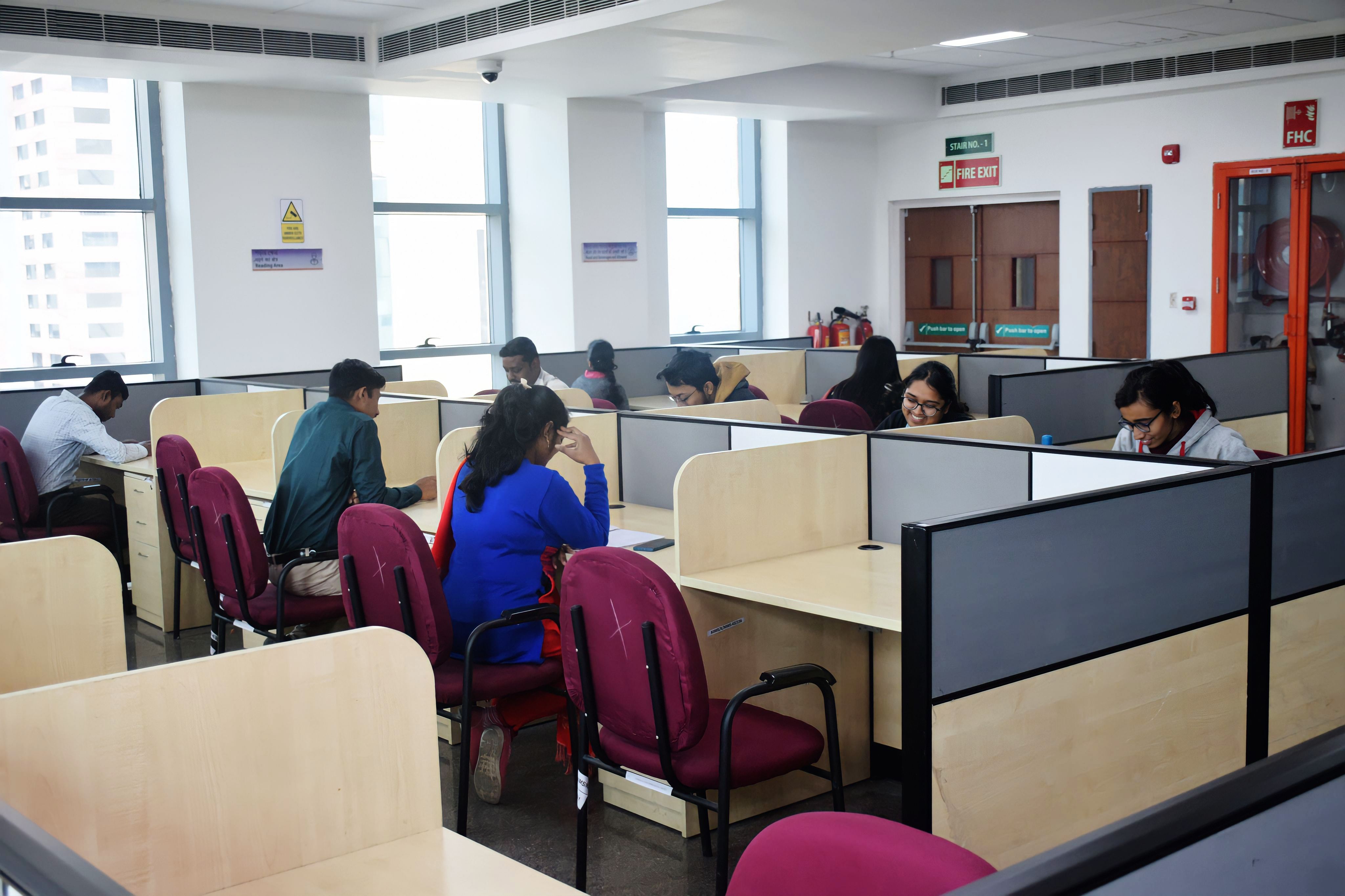 The Central Library established an E-Library which manages knowledge, both in print and digital formats and ensures seamless discovery and access to the scholarly resources to the faculty, students, and staff with professional support to find, evaluate, manage, and use such resources. It provides high-quality ambiance for both reflective and collaborative work and study. The library extensively uses social media for improved communication and interaction. This is the reflection of library's continuous engagement with its users as a valuable partner in their learning and research.
We have more than 45 functional computers and other accessories at present with Wi-Fi facility, adequate to cater to the needs of users. The PCs are meant for users to access e-databases, e-books, e-journals and other e-resources. The reading areas in the library have been Wi-Fi enabled to provide wireless access to the Internet. Users are welcome to use their laptops in the library.
The Central Library is equipped with all modern facilities. It has a rich collection of information resources in online medical databases, e-journals, e-books, research support tools, and printed material related to medical sciences and a varied range of services like reference and consultation, membership, and dissemination of user-centric needs.
The Library building consists of three (Ground, First & Second floors) with a carpet area of 2,608.596 square feet and seating capacity of approx. 250 persons. Since 8th March, 2021 the library remains open up to 9 p.m., 7 days a week including Sundays and holidays except national holidays. Its present collection consists of 800 printed books, about 81 Indian/International journal titles are in process of subscription. Library already subscribed a large number of e-resources contents, details are given below:
Oxford Medicine Online Content:
1000+ Authoritative Titles 85,900+ Images 1500+ Videos Q&A
UpToDate Advanced and Lexicomp:
9,800+ medical evidence, 1200+ Clinical topics, 440+ Medical Journals and publications, 35,000+ Pictures, videos, tables charts and figures, 5800+ drug monographs, 185+ Medical calculators
BMJ Complete E - Resources Package:

BMJ Complete E - Resources Package (BMJ Journals Collection, BMJ Case report, Best Practice with Comorbidities, Research to Publication, BMJ Learning modules)

Elsevier_EMBASE:

Systematic Reviews

Springer Nature: i. eBColl Medicine R0 (E- Book) - 1650 (2020-2021)
ii. Medicine Collection (E-Journal) - 300 (2023)
iii. Nature Reviews Journals (E- Journal) - 16(2023)

EBSCO:
i. Medline Complete Ultimate –

Full-text for more than 2,200 journals

Full-text coverage dating back to 1916

Ongoing full text and deep back file coverage for many key journals

MeSH (Medical Subject Headings) for more than 5,200 current biomedical journals

ii. CINAHL Ultimate- 800+ active full-text titles, 5,600 journals indexed, 1,500 journals with searchable cited references and 7,600,000 records

iii. eBook Nursing Collection- Approx. 700 eBooks

iv. Medical Image & Animations- 24,000medical illustrations, 1,200 medical animations, 250 monographs and interactive, 43 human body lesson plans

Wiley_Chocrane Library: 8,500+ Cochrane Database of Systematic Reviews, 2,400+ Cochrane Protocols Collection, 17,77,500+ Central Register of Controlled Trials (CENTRAL), World's largest database of Randomised Controlled Trials, 2,900+ Cochrane Clinical Answers, 135+ Cochrane Editorials, 42+ Special Collections, Systematic Reviews from Epistemonikos, etc.

Proquest:

i. Health Research Premium Collection-

MEDLINE 255 videos from BMJ Best Practice (26),

Harvard Health Publications (18)

Harvard Medical School Video Series (113)

Springer Nature Medical Videos (36), etc.

Dissertations & Theses – 127,100+

Working Papers – 4,649

Book Chapters – 6400+ chapters focusing on Clinical Case Studies

Reports - 2 million+ from Government & NGOs across the world

Evidence Based Resources Systematic Reviews/Meta-Analysis –

266,000+ with 127,000+ in full text

Clinical Trials – 917,000+, with 150,000+ in full text

254 eBooks 209 magazines

631 Trade Journals Complementary Databases: Coronavirus Research Database and Publicly Available Content Database

ii. Health & Medicine E-book Subscription-

18,800+ quality eBooks from leading publishers including unique titles from Wiley The library has been using Bar Code Technology for Issue & Return of Books and Electro Magnetic Security System for anti-theft of books. The Wi-Fi Internet Network Facility has been also providing by the library for accessing to e-journals/e-books in the library.